Get Complete Auto Detailing Services. A Fully Mobile Service.
At A Pampered Auto, our highly qualified and experienced staff and technicians deliver full, high-quality service. We'll meet all of your car cleaning needs. Call today for the most comprehensive car cleaning and detailing service in Pinellas and Hillsborough Counties!
Satisfaction Guaranteed.
Interior auto detailing is an important part of vehicle maintenance and care. It involves a thorough cleaning, conditioning, and protection of the interior components of a car, truck, boat, or RV. From leather seats to carpets, this process can revive the look and feel of your car's interior while also helping to maintain its longevity. Give your vehicle that showroom feel again.
Exterior auto detailing is an essential service for preserving the quality and safety of your vehicle. It includes a range of services that help you keep your car looking great and improve its performance. Everything from hand washing, pressure washing, wet sanding, minor scrapes and scratches, and more. Our exterior auto detailing services guarantee that your car looks as good as it performs!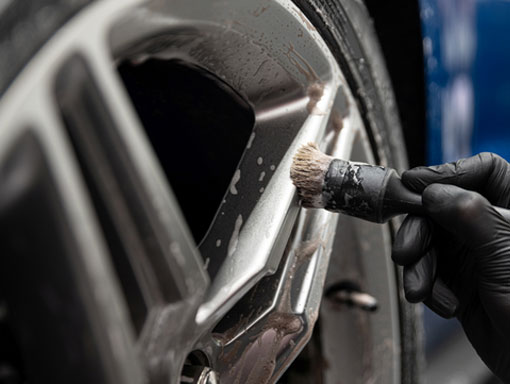 Protect your vehicle's alloy wheels with a specialized auto detailing service. Maintain the factory finish and keep your alloy wheels free of road grime, brake dust, and oxidation with regular cleaning and protection treatments. Enjoy a smooth ride with enhanced grip and performance while protecting your investment for years to come!
Protective coatings are an essential part of the detailing process, helping to ensure your vehicle's condition and longevity for years to come. Ceramic coatings provide a strong barrier against the elements – dirt, dust, chemicals, salt, UV rays, etc. – while providing superior shine and gloss.
Restore the clarity of your automobile's headlights with our specialized headlight restoration service. Our professional technicians buff away scratches and repair any discoloration caused by oxidation and wear. Rejuvenate the visibility of your headlight lenses and safely enjoy brighter, whiter light on the road at night with a detailed restoration service.
Restore a glossy finish to your automobile with a wet sanding auto detailing service. Our professional technicians remove deep scratches and blemishes, restoring damage caused by UV exposure and oxidation. A detailed wet sanding process gives your car a smoother, sleeker vibe that lasts longer than waxing or polishing alone.
Minor Scratches and Scrapes
Bring life back to your car's paint job with our specialized auto detailing service for removing minor scratches and scrapes. Our professional technicians safely buff away unsightly blemishes, restoring your vehicle's original beauty. An eye-catching finish is only a few clicks away when choosing a detailing service specializing in scratch removal
Get your car sparkling clean with a hand-wash auto detailing service. Our professional technicians use special mild soaps and cleaning products to scrub away dirt, debris, and contaminants tenderly. This deep clean leaves your vehicle's exterior shiny and free from streaks or smudges, allowing it to look as good as the day you bought it.
Make your car shine with a pressure washing auto detailing service. Our professional technicians use Powerful Equipment to blast away all dirt and grime from your vehicle's exterior. This directed jet of water quickly removes the tough, stuck-on substances that a traditional hand wash cannot reach. Bring back the original luster of your car with a pressure washing auto detailing service.
Odor Removal - Smoke, Musty Smell
Get rid of unwanted odors from your car with an auto detailing service. Our professional technicians use effective cleaning products and air fresheners to remove bad smells like smoke, musty odors, or food spills. After a thorough odor removal treatment, your car will smell fresh and inviting again.
Give your leased car back in its original condition with a lease return auto detailing service. Our professional technicians will meticulously clean, shampoo, and polish the interior and exterior of your vehicle so that it looks as if it's just come off the showroom floor. Avoid those extra fees when returning a leased car and make sure it gets the attention it deserves with a lease return auto detailing service.
Get rid of unsightly overspray with our Overspray Removal Service. Our professional technicians use specialized tools and advanced cleaning products to remove any accidental overspray from your car's paintwork, restoring it back to its original shine and condition. Get the hard-to-remove spots taken care of with our overspray removal service.
RV Polishing and Cleaning
Bring your RV back to life with our RV Polishing and Cleaning service. Our professional technicians will use the latest tools and products to restore the luster of your recreational vehicle's paintwork, while modern polishing techniques and cleaning products will make sure it's looking its best in no time. Keep your RV in great shape for years to come with our RV polishing and cleaning service.
Get rid of the dirt and grime on your auto interior with our interior steam cleaning service. Our professional technicians use advanced tools to deep clean the interior of your car, removing dust, allergens, and other contaminants from surfaces. Steam cleaning will leave your auto interior looking fresher and cleaner than ever before.
Leather Cleaning and Conditioning
Keep your leather looking its best with leather cleaning and conditioning. Our professional technicians use special cleaning solutions and conditioners to remove dirt, oils, and grime from the surfaces of your leather while also restoring color and texture. Make sure that the leather in your auto remains supple and smooth with our Leather Cleaning and Conditioning service.
Leather and Carpet Dyeing
Restore faded and discolored leather and carpets in your auto with dyeing. Our professional auto detailing service uses custom dyes to match the original color of the surfaces, giving them their original vibrancy back. With dyeing, you can make sure that your vehicle's look remains factory-fresh.
Restore the shine and quality of your auto's paint with paint restoration. Our professional technicians use special cleaning solutions, high-pressure washes, polishes, and waxes to deep clean and protect your car's finish. With our Paint Restoration service, you can make sure that your car looks glossy and new.
RV Roof Cleaning and Sealing
Protect your RV from damage caused by the sun, wind, and rain with RV Roof Cleaning and Sealing. Our professional technicians clean dirt, debris, and mildew from the roof of your recreational vehicle and apply a protective sealant to keep it looking like new, and sealed from moisture and the elements. Make sure that your RV is well-maintained with our RV Roof Cleaning and Sealing.
Engine Cleaning and Steam Cleaning
Engine Cleaning and Steam Cleaning by our professional technicians can restore that showroom look using special chemicals, high-pressure steam, and specialized tools to thoroughly scrub the engine and compartment of dirt, debris, and grease build-up. Get your vehicle looking its best with our Engine Cleaning and Steam Cleaning Service.
Hard water stain removal is one of the most important elements of auto detailing services. Hard water stains contain minerals, such as calcium and magnesium, that can damage your vehicle's paint job. Our professional auto detailing experts use specialized tools and solutions to safely remove these stains without damaging your car's finish. Protect your car from hard water damage and hard water stains with our Hard Water Stain Removal service.
Bird Droppings, Insects, and Love Bugs
Removing bird droppings, insects, and love bugs from a car's exterior is important to protect its finish and keep it looking its best. Our services provide the expertise needed to safely remove these elements without damaging your car's paint job. Specialized cleaning solutions are used to ensure that all traces of bug infestation, love bugs, and bird droppings are eliminated. Protect your vehicle from damage with our comprehensive bird dropping, insect, and love bug removal.
100% Satisfaction Guarantee
All of the work we do for your vehicle is of the highest quality. Your complete satisfaction is guaranteed.
Proudly serving Clearwater, Dunedin, Largo. Seminole, Palm Harbor, St Pete, and surrounding areas.